litewave  Wall Strip Lights, Strip Light Kits, Fibre Optic Star Kits, and Spotlights
Colour your home with LED Lighting
Welcome to Litewave ®, registered in 1999.  We have been involved with LEDs since the late 80's and love what we do.  We specialise in buiding LED Light Strips into the room to create an ambient mood light.  Done properly, it will create clean professional appearance that compliments the room, rather than simply sticking a piece of light strip on the wall. Our Strip Light Kits are branded and use our own Litewave Strips – designed to last, with high spec LED Drivers, and Controllers.
The products we developed from 2006 onwards are still in use around the world, from people's home, to cruise ships, limousines, bars, restaurants and hotels.   We could save you costly mistakes and from buying low class LED Lighting products that are less than ideal.
Custmoised wiring diagrams and schematics are supplied with our products making installation fast and easy.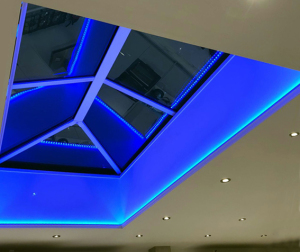 High Quality LED Strips
For long use in the home and other archtectural settings we highly recommend using our Professional LED Strip includes up to 130 additional components per Metre to ensure reliability and a trouble-free lifetime.
LED Mood Lighting
Our LED Mood Lighting can be used to create stunning effects. There are various ways of creating ambient or mood lighting effects, from LED Spotlights, to smaller Plinth Lights, Strip Lights, Modules or Fibre Optics to create star-like effects.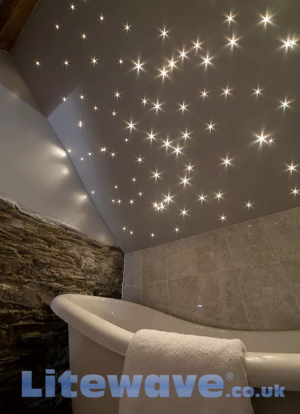 litewave Star Ceilings & Fiber Optics
If you want a lot of small lights without cumbersome wires Fibre Optic Lighting may be the solution.  Optical Fibres are thin strands of plastic (or glass) which are designed to transmit light from one end of the fibre to the other by internal refraction, due to carrying no electricity only light the fibres are ideal for creating star or pin point light effects in stairs, ceilings, floors, walls and even outdoors in decking or paving slabs.
Only the projector needs to be waterproof, this projects the light down the fibres, the fibres can go around corners and can even be trimmed to the length required.
We can supply single colour or colour changing Projectors to illuminate the Optic Fibres.  The Colour Changing Fibre Optic Projectors can be connected to the same controllers as LED Strip Lights and Plinth Lights for synchronised colour chnaging lighting effects.
Our Projectors are dual voltage so will be unaffected by lengths of cable runs which could otherwise cause voltage drop.