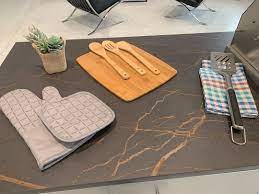 Kitchen Worktops  Your kitchen is the heart of your home.
Your kitchen is the heart of your home. It's where you cook, eat and come together with family and friends. So, we know how important your worktop choice is.
It needs to look fantastic, stand up to the wear and tear of everyday life, and last for years. We can help.
Kitchen Worktops   Why Pick Us For Kitchen Worktops?
We supply, Template, Manufacture And install Quartz, Granite, Marble and Dekton worktops.
We work with all the worktops brands Such as Caesarstone, Dekton, Silestone, Cimstone, Quartzfroms and many others. Aside from that we have our own Quartz range which include the most popular colours Such as the Carraras, Calacttas and sparkly colours. Proves us to be the most competitive than any other brands.
On order, we will require 10% deposit payment to confirm your order, and arrange a template date. And then we will require a 40% payment in the template date. Final payment of 50% will be required in the installation date.
Can I cancel my order?
You can cancel your order up to 48 hours before your template appointment and your deposit refunded in full. Deposits will not be refunded on orders cancelled after the 48 hour cut-off period.
You cannot cancel your order once your template measurement has been processed and your worktops have entered our factory for production.
Kitchen Worktops  Granite Worktops
Granite work surfaces are a very popular choice and bring timeless beauty into every kitchen. Granite is one of the hardest materials on earth, formed millions of years ago beneath the earth's surface. Worktops made from granite are extremely hard wearing & won't scratch under normal use and are easy to clean & maintain, making them ideal worktops for kitchens & bathrooms.
Quartz Worktops
Quartz Worktops are made of pieces of natural Quartz bonded together with a small amount of adhesive. Quartz worktops are often made up of 90-99% Quartz but the exact ratio depends on the manufacturer and type of Quartz worktop. As an example, Samsung Radianz Quartz is 93% quartz, as it is quite fine-grained. Below our experts run you through how Quartz Worktops are made and how this provides some excellent features and benefits for these worktops.